THE SPIANATA BOLOGNESE
The Spianata Bolognese is undoubtedly the driving product behind the wide range of products made ​​in Italy by Mondial Catering. The Spianata Bolognese is exclusively distributed and is a brand registered by Mondial Catering. Wooden cooked, in his culinary simplicity hides a secret that Mondial Catering has built over the years making it a symbol of Bologna, an icon of alternative Snack, a 'chance for a bite and a real meal, tasty, nutritious, healthy, cheap and especially innovative.
Spianata Bolognese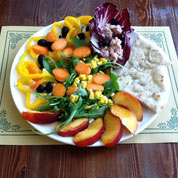 Spianata Bolognese
Spianata Bolognese
... the flour of our mills, the waters of our sources and lard of our "sacred" animal, the pig: the fruits of Bologna plain in a concert of flavors that melt together, in a wood-burning oven, in an ancient product: the Spianata Bolognese. Easy as its tradition, the peasant, but a little 'sophisticated as its city, Bologna. Suitable as by origin as pleasant alternative to bread, as a filler, as necessary on the table, until to reach the rank of main actor of the meal when it is filled with flavors that harmonize all in unison in a poem of taste absolutely bolognese ...
Easy
Flour, water, yeast, salt and a bit of lard.
Tasty
Is it for sure protagonist of the table.
Traditional
Rural customs handed down directly from Bologna.
Innovative
A slice of sausage, a grilled vegetables, a cheese find today new stimuli being sandwiched between two strips of Spianata. Is not a pizza, it is not a flat bread, is not a hamburger, it is nothing usual, is the Spianata Bolognese.
Eclectic
Properly stuffed with salami and cheese is a generous plate, with vegetables is a virtuous snack and attentive to calories, with Nutella is a sin of gluttony.
Modern
A real snack, a mini Dish that satisfies us but do not weigh us down, a real take-away Italian style, with all the flavor and quality that we deserve.
Contact us and request information for the Spianata Bolognese!