PRODUCTS MADE IN ITALY
Mondial Catering selects and uses the best products of the culinary tradition Made in Italy.
For years, working with selected partners who have choosen the same philosophy and pursuit of excellence. Partners are able to supply Mondial Catering with quality products every day of the year.
In Italy at the moment are identified 189 food products with the qualification P.D.O ("Protected Designation of Origin") and is the state that holds the primacy of Community production. The Italian region that boasts more awards (almost 31!) is Emilia Romagna. Of these, certainly the most famous and appreciated is the Modena ham.
Modena ham
That's why Mondial Catering selects its hams since the fresh legs. Cured for at least 24 months. Hams are labeled with the Mondial Catering brand. The company proposes in fact, with great pride, Made in Italy products that carry the Mondial Catering brand, Ensuring the quality of the judgment, always attentive, of final customers.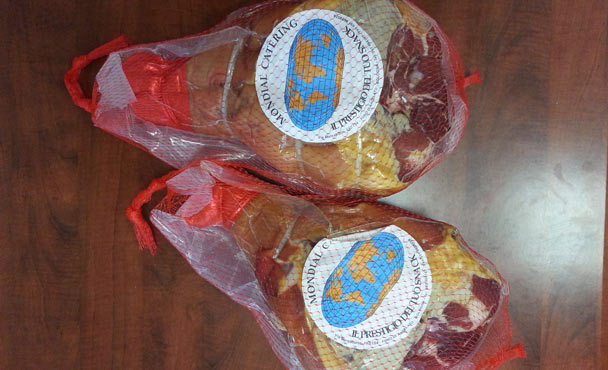 Modena's lambrusco
In addition to ham, to accompany the Spianata Bolognese, here's a great glass of Lambrusco di Modena. Product itself and witness of excellence and typical of our land: Emilia. The DOC Lambrusco of Modena ("DOC"), is the result of squeezing of grapes, such as: Marani, Marino Sorbara, Salamino, etc.. that can not be mixed with other grapes and that are indigenous.
Modena's lambrusco which is offered to customers of the Spianata Bolognese also leads the Mondial Catering brand.
Alto Adige's Speck
Another product that represents excellence is the Speck (originally from South Tyrol). Served along the Spianata Bolognese and produced by partners of Mondial Catering. In addition to having high levels of quality is made only by Italian meats (product 100% Italian).
Certification of Organic product
Mondial Catering is an enterprise with Certification of Organic Product.